If you purchased the Verizon Galaxy Nexus due to the fact that the super-fast LTE network would deliver an unparalleled Android 4.0 Ice Cream Sandwich experience you may have noticed some issues with signal strength, well it turns out that this may be affecting more people than we first thought.
The Verizon support team on Twitter has admitted that they are currently investigating a Galaxy Nexus signal strength problem following multiple reports of signal-related issues. Sadly we don't know exactly when a fix will arrive, but at least we know that a software update is being developed.
Someone who has been affected by the signal strength issue has been posting updates on the situation on Twitter, you can see his feed here. He claims that -93 dBa is as good as it gets for him and he often only has 2 bars of signal, in fact 3 bars have only flashed up once and he has never seen 4 bars. At first you would be forgiven for thinking that he lives in a low-signal area, but Verizon has told him that he is in range of two different towers – he lives in Roanoke, Virginia.
If you are pretty clued up in terms of cellphone technology you may find a recent AnandTech article pretty interesting, it is titled "Investigating the Galaxy Nexus LTE Signal Issue". What's interesting is that a photo of the Droid Charge side-by-side with the Galaxy Nexus (both connected to Verizon's LTE network) shows that they connect at roughly 107-108 dBm, however the Droid Charge's signal-strength indicator shows this as 4 out of 5 bars, whilst the Galaxy Nexus' signal-strength indicator shows this as very low 4G signal. Could this mean that some issues which are being reported are simply the result of a more accurate signal reading? It sure looks that way….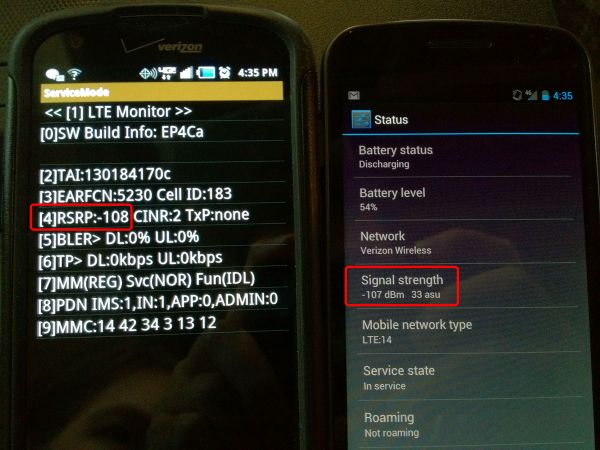 It will be interesting to see how much of a change the upcoming Verizon Galaxy Nexus update will make, for now let us know if you are disappointed with your Galaxy Nexus' signal strength in the comments section below. Perhaps you live in Roanoke, if so, what are your speeds like?
*Identifying Monetised Links - outgoing links that we monetise are marked with an '*' symbol.