We've had Google's Glass shock the world with their innovative wearable earlier this year, then Apple followed that up with the unveil of their beautiful Apple Watch a few months ago. Now, another wearable has arrived on the scene, in the form of the Cicret bracelet which claims to offer a virtual Android experience beamed onto your skin without any hardware involved.
It sounds amazing and you'll probably be gobsmacked once you have finished watching the Cicret Bracelet trailer below. For those that are wondering how the Cicret Bracelet works, it utilises a combination of a Pico Projector, eight motion sensors and accelerometer to make the magic happen.
There's also tiny other components within the bracelet which will allow for communication with your phone – these include Bluetooth, WiFi component and a built-in vibrator as well.
It all sounds too good to be true though and there are some important notes to consider. At this time, there is no Cicret Bracelet release date in sight so that's disappointing. There's also no idea of an initial Cicret Bracelet price to give you an idea either.
This video has created a massive debate so far, with over one million hits on YouTube for the promo video generated. We see that a lot of consumers are asking is the Cicret Bracelet real or fake, but it looks like a genuine product based on the professional marketing in the clip below.
The official Circet bracelet website is here, while there's also a Facebook page that has been set up here. The potentially worrying thing about the product though is that there's no guaranteed evidence that this dream-like device will ever make it to market.
There's also no Cicret Bracelet Kickstarter page or any other similar Crowdfunding websites for that matter, despite the fact that the creators are asking for a $1,000,000 USD donation to help build the first prototype and the accompanying Cicret app.
So in simple terms, it looks like the developers are relying on the generosity of the social world for the moment and we can see that they are already 11% clear on their goal.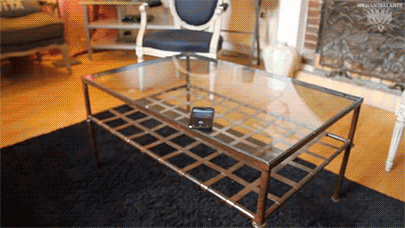 With no guarantee on whether there will be a confirmed Cicret Bracelet launch date though, it does seem like there are some risks involved if consumers are donating on the assumption that it is coming out. We also couldn't help but notice that there are some Cicret Bracelet scams appearing on websites such as Ebay, attempting to fool buyers into thinking that the Cicret Bracelet pre-order is already live.
Nevertheless, this is one of the best concepts that we have ever seen for a wearable device. Check out the images and the video below – then let us know what you think about it.
It sounds amazing right, so will you be donating 'blind' so to speak?
*Identifying Monetised Links - outgoing links that we monetise are marked with an '*' symbol.